Publications
Oct 2020
New York Supreme Court Amends Commercial Division Rule 6 to Require Hyperlinks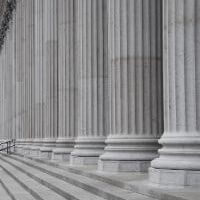 In a move to improve the technological functionality of electronic submissions to the New York State Supreme Court, Commercial Division, the Administrative Judge recently issued Administrative Order 133/20, which modifies Commercial Division Rule 6 – "Form of Papers." The rule change goes into effect on November 16, 2020.
The key change is to require electronic hyperlinks (or bookmarks) for all citations to documents previously filed electronically on a case's docket. The amendment also permits individual judges to require hyperlinks to case law, statutes, and other legal authorities and encourages litigants to use hyperlinks even in the absence of an individual judge's order requiring their use. The rule will make it easier for judges, court staff and litigants to access cited documents as they will no longer need to be pulled separately from the case docket or from Westlaw or Lexis Nexis.
While this change may seem daunting, once support staff and attorneys get accustomed to the practice, it will provide greater efficiencies as you will no longer need to dig through a docket for particular filings when reading case briefs.
Providing your team with training and support over the next few weeks will reap rewards on the backend. For the full text of Administrative Order 133/20, visit the New York State Court website.